The more time I spend in this room that will soon be my studio, the more I like it. With all this space to spread out, I can only imagine the creativity and inspiration that is going to become part of my days. Rather than be impatient about moving in and setting up, I am savoring the process of creating this room. Each little step is an important part of the journey to the end result. I have a feeling that this room will always be a work in progress which excites me.
These are the colors I've chosen. From left to right we have Smoky Mountain Spring, Rue Bourbon and Sassafras Tea. I really like the way the cool blue works with the warm browns. Hope it works as well on the walls!
Today's accomplishments.
Masking with newspaper and tape and covering stuff with old sheets: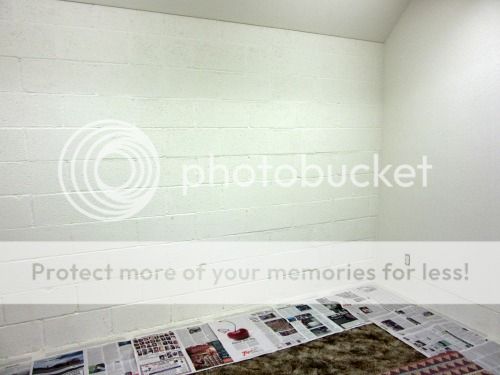 The tedious detail work - painting the corners and edges with Sassafras Tea. Have you ever wondered who gets paid to come up with names for paint colors?
Nearly done painting the walls with Sassafras Tea.
I painted around the refrigerator until hubby had time to help me move it. The fridge is now sitting in the middle of the room so I can finish painting the walls where it was located. In case anyone is wondering, it will be vacating the room for a spot in the garage.
I really like the Sassafras Tea. When I first started painting, I was worried that it was going to be too dark, but I was worried for nothing. The plan for tomorrow is to paint the ceiling in the same color and paint the block wall dark brown. Bonus if I get the other wall painted blue too!